IMPAX TSS-4 Monitoring System
The IMPAX TSS-4 offers downtime analysis and production monitoring in an easy-to-use touch screen system. The TSS-4 automatically collects information on production totals, machine efficiency, and accumulated machine uptime and downtime. All occurrences of downtime, and the corresponding reasons, are tracked and archived. This system is available in a vivid 4" color touch screen display, either mounted in a NEMA-rated enclosure, or flush mounted into a control panel.
Machine Efficiency Monitoring
The TSS system is capable of collecting critical process data from virtually any machine that runs in a manual or automatic mode. This includes cold headers, thread rollers, stamping presses, screw machines, injection molding machines, multi-slides, spring coilers, forging presses, assembly/insertion machines, packaging and printing applications, drills/taps, saws, and more. The system analyzes and displays the machine's run condition and other information. In the event of a machine/process stop, the unit automatically converts to downtime entry mode. Operators must select from pre-defined downtime reasons in order to restart the machine, so all downtime information is accurate. The touch screen interface displays a summary of downtime occurrences and minutes for each downtime reason, uptime and downtime minutes, productivity, tool and maintenance counters, and machine efficiencies.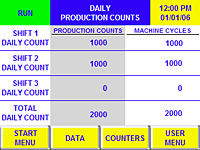 The TSS-4 tracks:
Click here to view more information on Screens and Features (PDF)
Networked Data Collection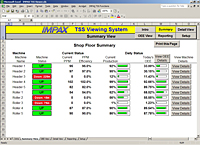 As a standalone monitor, the TSS-4 collects complete and accurate data and stores it for review. As part of a networked data collection system, it can also deliver accurate, real-time data to a computer or database. A networked PC running the TSS-NET Software provides easy-to-use and powerful analysis tools for collected data. Shop-floor data from the TSS monitors is transferred into a database program for further evaluation and report generation. Please see the
TSS-NET Software page
for more information.
Remote Access/Remote Control
With the new Remote Access ability for IMPAX TSS monitors, you can view machine status and uptime/downtime remotely. You can view each TSS's screen from any computer on the network, and take control of the TSS if needed. For more information, see the
IMPAX TSS Remote Control Demonstration
.
Data Tracked
Counters

N/A

Production counters

Order Counter

Tool counters (9)

Maintenance counters (9)

Scrap counter

Counts tracked per shift and day

Counts tracked per job, part number, and operator

Efficiency Tracking

N/A

Production efficiencies

Time efficiency

Quality efficiency

Feed efficiency

Efficiencies tracked per shift and day

Efficiencies tracked per job, part number, and operator

Uptime/Downtime Tracking

N/A

Uptime and downtime tracking

Operator response time tracking

Times tracked per shift and day

Times tracked per job, part number, and operator

Downtime Reason Tracking

N/A

Up to 32 downtime reasons

Reasons customizable for each machine

Multiple reasons allowed for each down occurrence

Optional machine run lockout until reason entered

Downtime occurrence log

Job Tracking

N/A

Job, part, & operator numbers tracked

Job data entry/job change screen

Operator log-in screen

Pending parts entry

All counts and times tracked by job, part number, and operator

Historical Tracking

N/A

All data tracked according to customizable weekly shift schedule

All data also tracked by day, week, month, and year
Monitor Features
Touch Screen

N/A

3.5" TFT

Color

320 x 240 resolution

Bilingual/Additional Language Support

N/A

Screen can be dynamically switched between languages

English and Spanish translations available

Additional Features

N/A

Two-way messaging between TSS units and PCs

Embedded/online operator instructions

Networking

N/A

RS 232/422/485

Wired Ethernet

Wireless Ethernet

Available I/O

N/A

Digital inputs (for sensors and inputs)

Digital outputs (for display/feedback)

Security

N/A

Passworded access to secure screens

Separate passwords for operator, manager, and engineer levels of access

Enclosure

N/A

NEMA-4 rated enclosure

Mounting options include flush in panel, yoke, swivel, or pedestal

Power

N/A

Standard 110V AC on dedicated circuit